2020 Scholars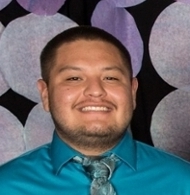 Jakeem Paul, Health Education
Paul is from the Navajo Nation in Round Rock, Ariz. and majoring in Community Health Education. He served as a residence advisor for the Summer Bridge Program coordinated by the UNM American Indian Student Services and also organizes a horse theory for Navajo youths who suffer from mental illness. He hopes to become a health education specialist in the Indian Health Services in his hometown.
Dora Bean (Honorable Mention), Civil, Construction & Environmental Engineering
Chenoa Scippio (Honorable Mention), Population Health
Carter Barnwell | History Research | Spain
Carter Barnwell is a Ph.D. student at UNM, specializing in Modern European History and twentieth century Spain. His research interests center on European political culture during the Interwar era, and he has been researching anti-fascist discourse as a unifying signifier for disparate political groups in the 1930s. Barnwell employs cultural and spatial theory to explore spaces and places of visual, verbal and physical contestation during the Second Spanish Republic and Civil War.


Jacqueline Hirsh Greene | English Teaching Assistantship | Germany
Jacqueline Hirsh Greene graduated with a BA summa cum laude in Linguistics and German as a second major from UNM in December 2019. Her extracurricular and academic interest in German language and art began when visiting a German art show in 2014 at the Neue Galerie, and has continued ever since. Outside of the classroom as a Fulbright English Teaching Assistant, she hopes to use art history as a bridge for cross-cultural and -linguistic learning. 
Emmalee Johnston | English Teaching Assistantship | Malaysia
Emmalee Johnston graduated from the University of New Mexico with a BA in Spanish and Italian and a minor in Political Science. As someone who is passionate about language, she spent six months during her time at UNM studying language in Granada, Spain and five months in Perugia, Italy. After graduating, she returned to Italy to become TEFL (Teaching English as a Foreign Language) certified. 
Laura Steele | Anthropology Research | Argentina
Laura Steele is a Ph.D. student in Anthropology and received a Fulbright Research Award in Argentina. Steele's project will address how Indigenous communities on the margins of an empire actively navigated the dramatically changing world around them and maintained their identity through their foodways. This proposed project will establish a comparative case study to complement the work done in the north and examine how, over two centuries, the more mobile and less complexly organized southern Indigenous people, navigated Spanish imperialism that began in the mid-16th century. 
Martin Watkins | Educational Linguistics | Italy
Martin Watkins is a Ph.D. student in Educational Linguistics and has received a Fulbright Research award to Italy. With the award, he will conduct ethnographic fieldwork for his dissertation focusing on Italian Sign Language interpreters in a dual language primary school setting. He is grateful to many people who have supported his endeavors.