George J. Mitchell Scholarship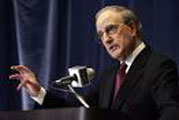 The Mitchell Scholarship is named in honor of the U.S. Senator who made significant contributions to Northern Ireland's peace process. Today, able students and future American leaders that demonstrate "academic excellence, leadership, and a sustained commitment to service and community."
Twelve Mitchell scholars are selected each year in the United States. These students are given the opportunity to spend one year of postgraduate study at any university in the Republic of Ireland or Northern Ireland in pursuit of any available discipline. The award covers tuition, room and board, and a $11,000 stipend.
Eligibility
Be U.S. citizens.
Be 18 years of age or older but not yet 30 on October 1 of the application year.
Have a bachelor's degree from UNM before beginning study as a Mitchell Scholar.
Submit UNM Preliminary Application Form by March 10.
Relevant websites: